Turning Your Ecommerce Site into a Progressive Web App: Core Elements and Examples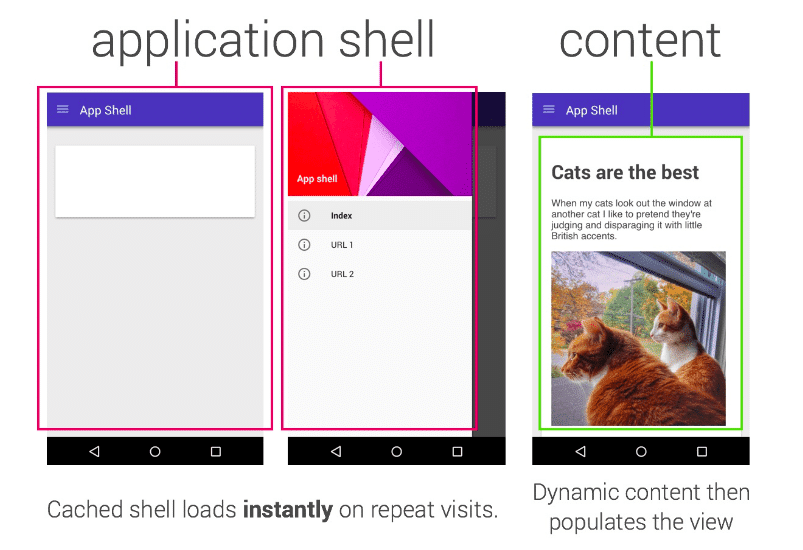 ---
Progressive web applications become increasingly popular every day. It is no mere chance that the biggest e-commerce companies such as Alibaba, Flipkart, or Aliexpress turned their websites into PWAs. All these brands were able to benefit from fast loading, rapid installation, and high security.
So if you want to use the services of a progressive web app agency and turn our website into a fast-loading PWA, now is the time.
PWA implementation indeed can bring e-commerce brands great results in terms of the main Key Performance Indicators (e.g. conversion rate or churn rate) However, we will save the exact figures for later. For starters, I would like to pay your attention to the main aspects of PWA development.
To turn the website into a Progressive Web App, you should understand the main building blocks of the technology. So let's take a look at the main components of progressive web applications that mark them out from software solutions.
Core elements of PWA
The main element of PWA is Service Worker which is a script run by browsers in the background. All the requests pass through it. Server Workers support such features related to PWAs as push notifications and background sync.
Hypertext Transfer Protocol Secure (HTTPS for short) is an extension of the HTTP protocol. It adds more safety for website resources. For example, HTTPS protects them from eavesdropping owing to bidirectional encryption. Besides, this extension prevents man-in-the-middle attacks.
The app shell is actually a graphic user interface skeleton that does not contain any content.
Suppose your website contains a header, two sidebars, and a footer. If you decide to remove the webpage content and dynamic elements, the static data that will remain intact will be the app shell.
According to Google Developers, the application shell works the following way:
This term defines a JSON file that contains metadata for your progressive web applications. They are the app name, icon, and other key parameters. Owing to this element, users can install PWAs as separate apps to their home screen.
When it comes to the e-commerce domain, the importance of push notifications cannot be underestimated. This valuable PWA feature can improve engagement greatly.
For instance, Treebo gained a 4x increase in conversion rate after building their PWA with push notifications.
PWA development tools
As for coding, I recommend using the following programming languages, frameworks, and technologies:
React or Vue.js for building the app's client-side. React has multiple tools and libraries that make the PWA development process much easier. At the same time, Vue.js is a great choice for creating easy-to-fix and lightweight web apps.
Ruby and Ruby on Rails to ensure the correct back-end logic functioning. Rails is our ultimate choice owing to its flexibility and a large number of ready modules.
Service Worker API to turn a regular website into a progressive web app.
SCSS/CSS-in-JS/Modular Stylesheets to build web page styles.
Other PWA development tools that are worth mentioning are:
Lighthouse – Google introduced this solution to help developers understand which web pages they can qualify as PWAs.
Workbox is an open-source collection of libraries provided by Google.
PWA Rocks is a collection of the most notable progressive web apps of different types: games, business, or news.
PWA Builder takes info from the websites to turn it to the PWA.
Data flow
Starting the PWA app development, initially build the app's data flow and define what data to cache and for how long. This way, you take care of the stable performance for the end-users.
Moreover, it allows you to understand what amount of information to cache since getting a lot of data may lead to a web browser tab going down. It is connected with the fact that each OS web browser provides its tabs with a limited amount of allocated memory.
Debugging
You may cope with the issue that Android and iOS systems interpret objects and place restrictions differently. It means that you need to consider the features of both operating systems when building PWAs. This way, you can guarantee flawless performance for all devices.
Be aware that Google provides a solid step-by-step guide that will be a good help if you want to turn your website into a PWA.
Best PWA examples in the e-commerce industry
Now let's take a look at some successful PWA products created by famous e-commerce brands.
Alibaba
Alibaba is the world's biggest online B2B e-commerce platform. It sells products to over 200 countries and regions worldwide.
The majority of users find Alibaba via mobile web. For this reason, this wholesale trade platform made flawless mobile web experience their top priority. To achieve this goal, the decision was made to invest in PWA development.
Here are some essential metrics they got as a result:
76% increase in conversions across browsers;
>14% increase in active users on iOS;
30% more monthly active users on Android;
4X increase in interaction rate from the 'Add to Homescreen' feature.
Flipkart
Flipkart is the largest and most prominent marketplace platform in India. The platform is a top performer when it comes to selling clothes and electronics.
The company aimed at gaining even more potential users and getting even more revenue by offering their customers flawless native apps' experience. To pursue this goal, they created a Progressive Web App in 2016.
PWA implementation brought fantastic results including:
3x lower data usage;
40% higher re-engagement rate;
70% more conversions by "Add to homescreen";
3x increase in time spent on site.
Bottom line
As you can see, PWA implementation is beneficial to both e-commerce brands and users.
Entrepreneurs get higher conversions, increased engagement, and attract more potential customers. Visitors achieve a fast-loading, offline, and secure solution right from their home screens.
So, you have a solid reason to invest in PWA development.
With the tools and guides provided in this post, you will turn your website into a progressive web app in no time.
---
Dmitry Chekalin
CEO @ Codica. Software Entrepreneur with 15+ years of experience. Focused on the lean startup approach. I write about startups, marketplaces and SaaS products, and custom software development.