Top 6 Digital Marketing Tools You Should Know About in 2022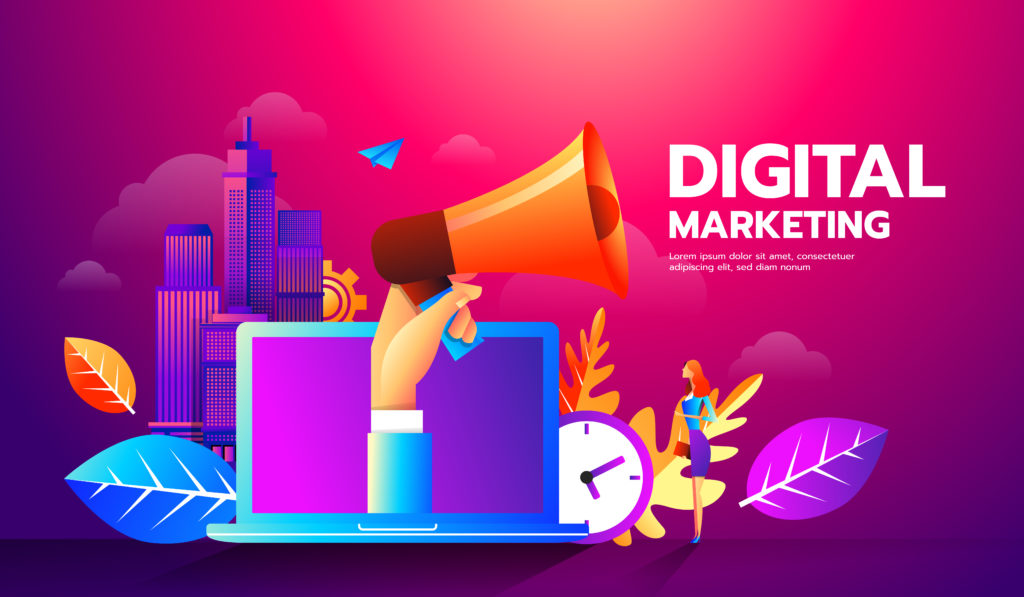 Introduction
Having the right tools for the job will always benefit the end result, and digital marketing is no different. Without the right tools at your disposal, even the best-conceived marketing plan can fall flat on its face. To sharpen a strategy and sculpt a campaign requires a toolkit that is up for the task. Whether you require deeper data insights, the tracking of a campaign's progress, or to have a more time-efficient grip across your business social media outlets, digital marketing tools are a must for successful business growth.
Since 2019, more than 79% of Millennials browse the internet before making purchases either online or in-store. This highlights the importance of strategic digital marketing agencies using the right tools.
With 2022 on the horizon and online business more important than ever in the wake of the COVID pandemic, here are the 6 digital marketing tools you should know about as we leave 2021 behind. Showcase IDX provides the tools that your clients can use to access to many listing listings.
Google Analytics
Not just one of the most popular broadly recommended digital marketing tools but considered to be the most robust of all time. Among the tools used by the digital marketers such as Google search console, Hootsuite, namegenerator-engine to generate random names, Google Analytics has become a top hit and won't be leaving any charts in 2022. Even with little effort, Google's top-rated analytics software can yield massive results, which are invaluable to any business. Packed with impressive capabilities – especially if used to their fullest – Google Analytics 4 can track all actions made by every visitor to your website. This harvests an opulent amount of insightful data, revealing how your website is being interacted with. This information will let you know how well (or not) your marketing campaign is progressing, thereby highlighting its strengths and weaknesses and where and how it can be honed. Other noteworthy features and insights include (but are not limited to):
SEO optimization;
Customer demographic insights;
Heaviest source of traffic;
Most visited webpage;
Pages with most interactions;
Predictive analysis (performance-based estimation of campaign success figures).
This free-for-anyone tool is a market-leading heavyweight, solidly positioned and going nowhere: it will only become more powerful in 2022 and beyond. With Google analytics, you don't need an SEO consultant to help you decode Google analytics data as they are straightforward and easy to understand.
MarketingPlatform
MarketingPlatform is a great tool for email marketing and marketing automation. With advanced capabilities that allow you to integrate SMS and Social Media marketing into your campaigns, MarketingPlatform is a complete solution that lets you communicate with your customers on whatever platform they prefer.
MarketingPlatform also comes with an integrated Customer Data Platform (CDP). With the CDP you can integrate data from many different sources, such as your CRM-system, your eCommerce platform or data about purchases from your physical stores directly into one system, thereby building detailed profiles of your customers, that you can use to segment on and thus communicate more effectively with your customers.
By using a CDP, you can use information, such as which physical store specific customers frequent, what type of goods they have purchased – and even details such as age, sex, and what products they looked at in your online shop, but end up not purchasing.
Some of the MarketingPlatform pros:
+Advanced Email Marketing and Marketing Automation tool
+Integrated Customer Data Platform
+Drag-and-drop editors allow you to build beautiful messages without coding
+Integrates email, SMS as well as other communication platforms into one
HubSpot
The success of any business is reliant on its customers, and Hubspot's CRM tool is more than adequately muscled to shoulder your customer relationship management. Like Google Analytics, Hubspot can enhance marketing campaigns and refine strategies by amending them according to the data insights it provides. Designed to supply optimal results, this software can improve the nurturing of leads and interactions with customers.
Other key features include:
Email templates;
Optimization of landing pages;
Live chat;
Management of business social media platforms;
Enhanced content creation.
Showcase IDX
Showcase IDX provides the tools that your clients can use to access to many listing listings. Make your site sticky with the portal-quality search for agent and brokerage websites. Modern search options that buyers and sellers love. Showcase IDX's proprietary indexes to let you search across seamlessly across multiple MLS feeds. The Fastest, easiest way to search.
Hootsuite
The dawn of 2022 means that Hootsuite is entering its 14th year on the market. Designed as a platform for multi-managing social media accounts, it goes without saying that it continues to do well and will be sticking around. LinkedIn, Facebook, Twitter, and all the usual suspects can be handled from an intuitive, easy-to-use dashboard. The proliferation of social media platforms now out there with their infinite marketing potentials for businesses to utilize means that Hootsuite has fast become something of a personal assistant for them. With so many social
media strings to pull, Hootsuite is the social media PR puppetmaster.
Hootsuite's key advantages:
Social media post scheduling;
All platforms under one roof;
Notification tracking (mentions, likes, shares, messages);
ROI estimation tracking based on social media interaction.
Trello
Trello is a digital marketing and project management tool that has become one of the most popular around the world. Its core focus is on improving overall efficiency, particularly through better production with team collaborations. Its project management capabilities have advanced Trello to being a leader in its field. Team alignment and streamlined organization are possible across multiple projects simultaneously while keeping the workflow of each still moving smoothly along the rails. All of the components of a marketing campaign and its strategy can be shared and stored at the same location and made available for access by every team member. This central storage available to every team member means project communication is open and that everyone is working from the same page.
Unlimited tasks and workflow;
Better collaborations;
Can be integrated with other business applications;
Economical task delegation;
Document sharing.
Canva
Photographs, illustrations, infographics, tables, logos, and charts: engaging visual content breathes a vast amount of life into digital marketing campaigns and encourages customer engagement. Canva has steadily been growing well and offers a huge array of convenient, useful templates. As well as its own library of images, you can upload your own or, if you prefer, you can start from scratch and build your own from the ground up. For lively, original, and inspiring graphics, Canva is more than capable of creating professional visual content for any marketing campaign and is establishing itself as one of the best at what it does. Among its possibilities, Canva supplies templates and tools with which marketing teams and campaign strategists can create:
Business cards;
Marketing posters;
Graphics for social media;
Business brochures ;
e-Books;
Infographics.
SelfCAD
This is another digital marketing tool that is in the same category with Canva as they are all used in creating 3D materials as well as realistic renders. SelfCAD is an easy to use 3D design software for designers as well as small and large business owners. It's an important tool for
Prepare 3D assets that can be shared on social media or even sent to the clients.
If you would like to describe your products in a manner that is understandable and even also improve the reception rate and hence increase sales. SelfCAD has various tools like 3D rendering for creating realistic renders, 3D printing tools like the in-built slicer for preparing the 3D designs for 3D printing if you would like to 3D print them. There are also other tools like sketching and freehand drawing to help you bring your ideas to life with much ease.You can create the following in SelfCAD:
3D Designs
Realistic 2D renders of your products
Prototypes
Simple animations
Training materials
MailChimp
This popular and rock-solid email service provider is one of the world's most used for business. Feature-rich, MailChimp provides templates for creating marketing emails that will look superb and perform perfectly whether viewed on a mobile device or desktop. Simple to use, even for those with little experience, MailChimp boasts superb versatility and functionality, and can even be integrated with eCommerce platforms such as Shopify and WooCommerce. Its drag-and-drop UI means that marketing emails can be built with ease and at speed. MailChimp has made a name for itself as one of the big-hitters on the email service providers market and it looks set to continue packing a punch for businesses of all shapes and sizes through 2022. Engaging, customizable, high-quality business emails are about as effortlessly constructed as it is possible. Furthermore – for small businesses or new startups, MailChimp has a generous free service available so long as your mailing list has no more than 2000 subscribers.
MailChimp pros:
Integration with hundreds of other business apps;
Free service idea for startups;
User-friendly customization;
Email scheduling.
LeadsBridge is an iPaaS automation solution that enables marketers and advertisers to enhance their omnichannel strategy and build their own interconnected marketing ecosystem.
LeadsBridge fulfils your integration needs, focusing on bridging gaps between top advertising platforms – Google, Facebook, LinkedIn and TikTok – and main marketing platforms – CRM, email marketing automation software, autoresponder, and so much more. LeadsBridge is also equipped to develop tailor-made integrations based upon your unique business needs.
The LeadsBridge platform is specifically designed for companies that want to streamline their advertising activities by integrating their marketing stack with Facebook & Instagram Ads, Google Ads, LinkedIn Ads, and TikTok Ads.
With 380+ out-of-the-box integrations available, you can easily connect your favorite software with your advertising platforms, seamlessly synchronizing data for your marketing workflows.
With LeadsBridge's integrations, data flows from a source into a destination of your choice automatically and in real time, while always maintaining CCPA and GDPR compliance.
LeadsBridge pros:
Lead Sync
Audience Targeting
Online-to-Offline Tracking
Platform to Platform
Tailor-made integrations
Content and copy are two integral parts for a successful business. Copysmith uses AI technology to generate copy of any kind for you in a matter of seconds, so your team no longer faces content creation bottlenecks. With over 30 templates and integrations to lots of major platforms, Copysmith can come up with unique and quality copy that converts at warp speed.
Copysmith has tailored solutions for both individuals and teams of various sizes with features like collaboration tools, bulk generation, and custom voices. Make sure to check out their features to find the perfect plan for you.
Copysmith pros:
Reduces time and cost spent on copywriting
Generates quality copy that converts
Diverse templates and features to cover all your needs
Eliminates copywriting bottlenecks
Custom solution for any business
Zapier
Zapier is a must-know tool for any marketer looking to automatically move data from one platform to another. Zapier can connect most of the applications used by marketers today. From Marketing Automation Software, such as MarketingPlatform and webinar software, such as GoToWebinar to CRM systems like Salesforce and Pipedrive or Google Sheets and PayPal. Zapier is able to connect them all, so leads are transferred directly and without risk of errors from one application to another.
There are literally hundreds of use cases for marketers to use Zapier, and automating handling of leads is just one of them.
With Zapier, there's very little you can't do and depending on the applications needed and the volume, many marketers can get away with using their free tier.
Zapier pros:
Connects most applications used by marketers
Automating workflows
Eliminating potential errors when typing
Ensures data is always up-to-date
Free tier makes it easy to get started
Sender is a platform and a powerful tool in the ecommerce business world. It gives an opportunity to be in contact with customers and grow business while spending less time and resources. This tool also allows you to use appealing and professional looking email templates for your business or create it by yourself using a range of advanced tools. It will boost more sales if you are integrating this platform in your email marketing strategy.
There are thousands of companies that are using this platform and already have succeeded by integrating it in their email marketing. Sender provides a wide range of features and has many advantages for using it in the industry.
Sender Pros:
Access to a free templates gallery
Create newsletters where and when you want
Editing custom HTML
Advanced automation
Increasing revenue 
Growing the audience 
SaveMyLeads
Facebook does not have features to automatically export leads to external systems. You have to upload customer data manually to a computer, and then copy it to CRM, online spreadsheets, or other services to effectively work with applications. It takes too much time and effort.
In addition, the social network does not notify you when new leads are received. Therefore, you can respond to customers late – when they have already lost interest in your products or services.
Also, Facebook does not have the ability to set up automatic notifications that would inform customers that you have received and accepted their applications.
These problems are solved by the SaveMyLeads system. This is a novelty in the market of online connectors – platforms for business automation. But, unlike analogs that cover a wide range of tasks, SaveMyLeads focuses on automating work with Facebook.
So, using this connector, you can set up the transfer of data from the social network to many other services. Among them are CRM, instant messengers, spreadsheets, mailing services, and so on.
Ease of use. To work with the service, you do not need to be able to program or study complex documentation. You just need to act according to the prompts built into the interface.
Quick setup. Creating a connection is within a few mouse clicks and takes up to 5 minutes.
Management flexibility. The service allows you to create many connections with different systems. Each such connection can be suspended, edited or deleted at any time.
Trial period. Within 14 days, all functions of the service can be tried for free.
ApiX-Drive
The ApiX-Drive online connector offers hundreds of ready-made integrations, including those for services that are popular with Russian-speaking digital marketers. Communication works according to this principle – "if something happens in one system, then certain actions are performed in another". ApiX-Drive is a cloud-based no-code solution. Communication is configured in a few minutes without the involvement of programmers. No special knowledge or API knowledge is required.
A significant part of the tasks of a marketer is related to the processing and transfer of data. These routine processes not only take a lot of time, but are often accompanied by loss of information. This problem is solved with the help of automation and the use of integrations.
The ApiX-Drive online connector offers hundreds of ready-made integrations, including those for services that are popular with Russian-speaking digital marketers. Communication works according to this principle – "if something happens in one system, then certain actions are performed in another". ApiX-Drive is a cloud-based no-code solution. Communication is configured in a few minutes without the involvement of programmers. No special knowledge or API knowledge is required.
ApiX-Drive pros:
Synchronization of information on leads in different systems
Importing an audience into advertising accounts
Uploading advertising costs to analytics services
Updating contact lists in mailing services
Notification of sales staff about new leads.
Conclusion
As 2021 ends – the second year in which business and consumer activities have been impacted by the Pandemic – digital marketing has become more important than ever before. More people have worked and shopped from home than at any other time, with desktops and mobile devices never more than a few inches away. As digital marketing increases, so does the need for better tools to accomplish the task. The tools here are 6 of the best that are reaping rewards for businesses everywhere – and will continue to do so in 2022.