How to Upgrade your Game using e-Commerce Email Marketing?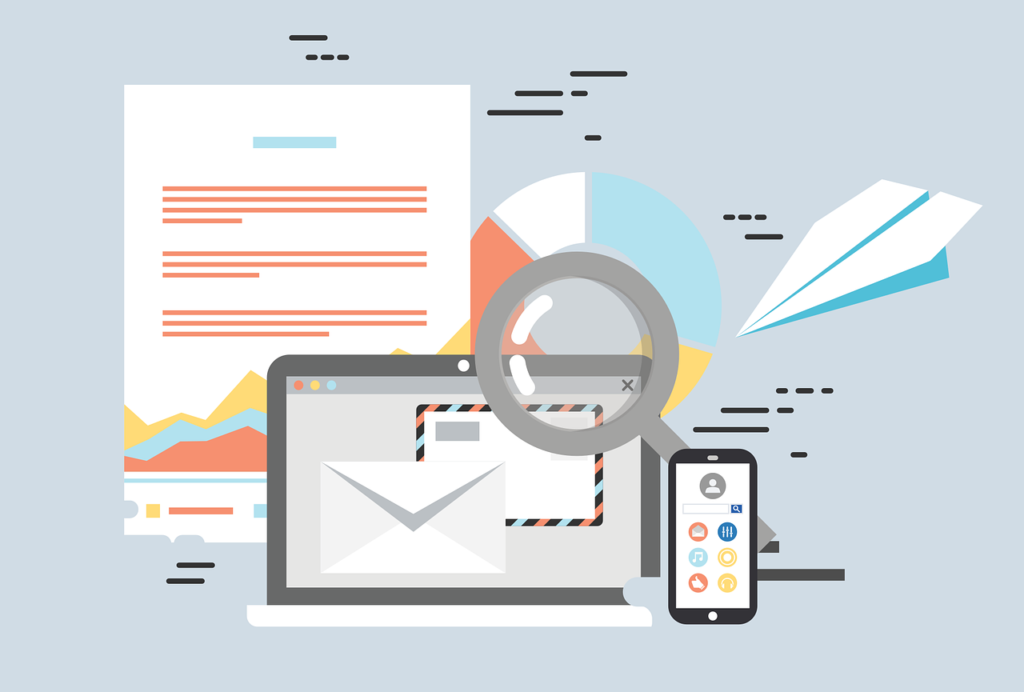 What is E-commerce Email Marketing?
E-commerce email marketing is the art of leveraging email to generate sales for your store.
It can be simple, like emailing people who abandon their cart. Or complex, like having many campaigns that work synergistically to increase sales exponentially.
Ultimately, when you look at promotions, offers, free delivery coupons, and lead promotion emails, you have to remember that email marketing is all about relationships.
So, let's take a look at your tools first because every good craftsman needs the right tools.
E-commerce Email Marketing: The Perfect E-commerce Email
When we enter the campaigns section, we will get specific examples of each type of email.
Before we do that, let's dive into the elements of perfect e-Commerce.
The "From" Name
The "From" Name is the text that appears next to the email address when the email appears.
Some companies like to be fancy using a personal name in the "From" field.
They do this because they think it gets their attention. However, from our experience, it is better to use your brand or your company.
From Email
This is where I see many innovative companies making stupid mistakes.
They send emails from a "no-reply" email address, such as noreply@corecommerce.com.
Help people contact you by using an email to send email to, such as hello@corecommerce.com.
You will look more accessible, you will get more customer feedback, and thus you will have more success.
Subject Line
"On average, five times more people read the headlines than the body of the text. Don't let yourself be taken to try to perfect:
From Name
Your design
Time of the day
Call-to-action
Use best practices and invest your creativity in compelling subject lines and test them out because this is where you will get the best return on investment.
Here are some tips to have in mind when crafting your subject lines:
The "4 Second Test"

When you've written your subject line, you only have four seconds to grab someone's attention. Take your time and use words that hook people up as fast as possible.

Ideally, less than a second.
Avoid Salesy Words
Great marketing is about breaking the patterns, and thus if you're doing the same thing as everyone else, no one will pay attention.
So, don't use words like:
Free
Help
Percent of
Reminder
Personalize with Their City Name
When email started, the personalization with someone's name was new and caught people's attention.
But today, it is easy, and everyone does it, so it doesn't work anymore.
Instead, personalize with the name of their city.
The shorter, the better
As a general rule, limit yourself to 50 characters or less. Most people scan their inboxes to ensure that they will find an email worth reading.
Make it easy to figure out whether they should open your email.
Pre-Header
The pre-header is the text that appears next to your subject line in your email.
This is what people see after reading the subject line and plays a role in determining whether they email it, so you want to get it right.
Think of your pre-header text as a subject line continuation. Use it to develop your subject line and stir up the and emotion associated with the subject line.
Design
Generally speaking, in e-Commerce email marketing, less is more. As the debate between which converts best (text emails or HTML emails), you can be sure of things:
If you have an email with 100% text and no branding, it will likely be marked as spam because people won't know immediately from whom the email is.
If you go too heavy on fancy elements – like beautiful pictures, animated GIFs, and crazy page layouts – your email is likely to be picked up by algorithms and end up in the promotions tab.
You have to find a balance; simple enough that your email is somewhat personal and fancy enough to attract attention.
Timing
When it comes to timing, you need to know your customers and when they like to read. You may already have this information from past data or understand it based on your customer demographics.
Most people open their emails within four hours of sending, so think carefully about what people are likely to do within a few hours of sending your email.
Take a look at the time of the day that you have the most orders. This will give you a rough idea of ​​when they are more likely to buy, and these times will usually be the best for emails, too.
Finally, go to your competitors' websites, subscribe to their mailing lists, and see when they will send you their email. Be sure to test whatever you discover there with your data to understand the niche and the best times to send.
E-commerce Email Marketing: Email Marketing Service
If you are into e-Commerce and email marketing, the chances are that you already use email marketing software. There are many options online that have a variety of automation and features and come at different prices.
Using the best email marketing service for your store can exponentially increase your revenue and improve your services' quality.
In other words, you can create your campaigns and set them to autopilot while you are taking care of the details and the optimization. The best part is that we can automate most of the campaigns we will discuss below.
So, let's see what we can do with our email marketing software and our perfect email.
The Ultimate Guide to E-commerce Email Marketing
With the perfect email in place and your email marketing service ready to send your next campaign, we must understand the e-Commerce email funnel. Using an e-commerce email marketing agency can be a great tool.
The funnel consists of three stages which demand a different approach to convert users.
Step 1: Interested – People who came for a coupon, guide, etc., but didn't buy anything. The goal of step 1 is to get them to make their first purchase.
Step 2: Engaged – People who have purchased one or multiple products. The goal of step 2 is to encourage them to stay engaged and buy again.
Step 3: Reengage – The people who stopped opening and clicking on emails. The goal of step 3 is to reactivate these people by purchasing something, opening an email, or clicking on a link.
Let's get into the actual campaigns and drive some sales!
E-commerce Email Marketing Campaigns Blueprint – Stage 1
Step 1 – Interested: The Welcome Email
With 74.4% of consumers expecting a welcome email when they subscribe to a company's mailing list, you miss a great opportunity if you don't have one.
Subscribers who receive a welcome email have, on average, 33% higher engagement than those who don't receive a welcome email.
So, take advantage of your first email.
How to structure your welcome email?
The welcome email has several elements that make it effective. Let's take a look at each one:
Subject Line
The best subject lines for your welcome email are the following:
Welcome to the family (please read)
Welcome to "BRAND_NAME"
Hello, from "BRAND_NAME"
Welcome
Say hi to them and welcome them to the family—easy as that but very important step. You can do this by saying "Hi" or "Welcome."
Unique Selling Proposition
List a few bullet points on what makes you unique, or add a few text sentences on the same thing.
This is the place to explain:
What makes you unique?
Why choose you over your competitors?
What ideal result to expect from your products or service?
What Happens Next
In this section, you need to explain what they should expect from your emails.
Will you be emailing them every day?
Weekly?
Will your emails include content?
Videos?
Whatever niche you are in, the objective remains the same: tell them what to expect from you in the future.

Make an Irresistible Offer
Regardless of whether you had a lead magnet in exchange for their email address, you should include an offer in the welcome email. Give them something to remember you:
Free shipping
A gift
Points on future purchases
Just give them something and communicate it clearly in the email with big, bold text and a button that stands out.
Promote Your Social Profiles
Add links to your social media buttons so that your customers can follow you outside your welcome email.
Step 1 – Interested: Lead Nurture Email
The primary goal of every lead nurture email is not to sell something. Although there can be "soft sales," the main objective is to educate users and share more information about your brand.
How to structure your Lead Nurture email?
Your customers have other problems aside from what your products may solve. Many companies focus on selling their products and don't care about their customer's other issues.
So here comes an opportunity.
Since most companies aren't nurturing subscribers if your brand does nurture leads, who do you think customers will choose when buying products?
Here are 2 ideas to help you craft your following nurture emails:
Education
I speak to many online retailers and e-Commerce companies who don't believe it's possible to educate their prospects and customers. They may sell pocket knives or bicycles. They can write so many emails about their products, and they don't take advantage of this opportunity.
For example, take pocket knives. You could write emails about:
The evolution of the pocket knife (from 350 BC to now).
Why expensive pocket knives matter.
How can you use different types of pocket knives?
The trick is to find out topics that could be interesting as stories or information, and people would be excited to read. Also, did you notice how each of these ideas leads naturally into a pitch for a product?
Although there is a selling opportunity, it doesn't feel like a pitch, and, therefore, there are good chances that some subscribers will convert.
Entertainment & Storytelling

Funny videos, viral songs you're listening to during office hours, or anything else you can think of can be a great way to nurture people.
Of course, the kind of content you will share will depend on your brand, but remember that providing entertaining content is a great way to stand out from the boring companies out there.
One of my favorite elements for lead nurture emails is storytelling. You can tell stories about your business, how you got started, and some behind-the-scenes stories.
You can always tell stories about your employees or your customers. However, ensure that you're not becoming over-promotional at this stage of the funnel.
E-commerce Email Marketing Campaigns Blueprint – Stage 2
At this stage of the funnel, we will discover how to get customers deeper into our customer cycle and build better relationships. So, let's explore what kind of emails we need to create for such a reason.
Step 2 – Engaged: Transactional Emails / Email Receipts
Your customer base can become a fantastic source of sales and revenue for your company, and many brands ignore that.
It's approximate 10x times more expensive to acquire a new customer than to sell something to an existing customer. In this section, we will analyze how to create more opportunities for sales with existing customers.
Transactional emails are your shipping and order confirmations, and because of that, they have high engagement and open rates.
How to structure your Transactional Emails?
Optimizing your transactional emails is relatively straightforward. Take your default email receipts and add the following elements to make them pop:
Up-sells and Cross-sells
Add up-sells and cross-sells for other related products you sell. If possible, try to use personalization to create recommendations that convert the most.
Benefits for the user
Never stop highlighting the features that make your business stand out and the benefits for people who use your product or service. For example, free shipping, your return policy, how and where to get in contact with support.
Step 2 – Engaged: Cart Abandonment Email Campaign
According to an independent web research company, 67% of online shopping carts are abandoned. Cart abandonment can be an enormous problem for online retailers and e-Commerce stores.
Shoppers abandon their shopping carts for several reasons, including:
Worrying about payment security
Not seeing their preferred payment options
Bad user experience
While a cart abandonment email campaign won't solve all your problems, it can still deliver a substantial boost in revenue.
How to structure your Cart Abandonment Emails?
Most companies make the same mistake. They use a generic cart abandonment email that comes with their e-Commerce platform or their email marketing service.
From what I found, the best results come from a customized sequence of three emails. So let's explore how you can craft a winning series of emails.

Email 1: Reminder
Your first email need to be just a reminder. Most companies offer an incentive in the first email, which reduces the potential revenue. The truth is that many people just need a simple reminder.
It can be a photo and a link with their shopping cart to continue with their shopping journey on your website. Simple as that.
Email 2: Objection
The second email is all about that gentle gesture of answering any possible objection potential buyers may have.
The objections might come from common-sense thinking or research and data. Do they know:
what makes your brand unique?
you offer free shipping?
why you're more expensive or cheaper than your competitors?
Email 3: Discount
If none of these two emails converted, it's time to unleash the big guns. Commonly, it can be that they are price-sensitive, and in this case, a discount would close that deal.
E-commerce Email Marketing Campaigns Blueprint – Stage 3
Step 3 – Reengage: Reengagement Campaigns
I have some good and bad news. The bad news is that over time some people will start ignoring you. The good news is that we have some email campaigns in our arsenal to make them loyal again.
That's where reengagement emails come in.
How to structure your Re-engagement Emails?
Create strategic email marketing campaigns that users will receive if they haven't opened or clicked an email in 60 days. Another way to target people is based on their buying behavior.
That's when they didn't buy for a specific period. When you chose your segment, use one or all of the following ideas to reactivate and reengage these users.

Send Surveys

People disengage for a reason, and we have to find out why. Send an email with a survey asking why they stopped responding to your emails.
Remember to offer an incentive for completing your survey to increase the number of responses you receive. Speaking of incentives…
Offer Incentives for Visits
Get people back to your website by clicking on links. Link to a blog post, create a game that gives them a coupon if they win, make a video, and reward people if they watch the full video.
"No-brainer" Promotions
If someone has stopped responding, maybe they want more significant discounts or want more benefits, such as a rewards program. Suppose you can add this no-brainer offer and see what happens.
For example, instead of your typical discount of 10% off, try offering 50% off to encourage the person to repurchase.
The Takeaway – Ιt's Easier to Get Started than You Think
Thanks to advances in analytics, tracking, and marketing automation software(social media, email marketing, etc.), it's now relatively easy for any e-Commerce company to create the behavioral campaigns listed here.
To find opportunities like these, look for drop-off points in your customer journey and funnel and create a separate email marketing campaign for each one.
Creating successful email marketing campaigns isn't easy, but you can achieve outstanding results for your e-Commerce shop and increase your revenue with the structure above.
Until the next e-Commerce article, keep sending.
——————————————————————————————————————————-
Alex is a content writer at Moosend. Coming from an architecture background, he took the leap of faith in the digital marketing world and never looked back. In his free time, you will find him taking photos in places around the world. Find out more on LinkedIn.