How to Start a Successful Blog for Free in 2022
Blogging is dead. We're sure it's not the first time you hear it. This statement is not only alarmist but also wrong: 77% of Internet users read many successful blog content daily.
Are you planning to start a blog in and turn it into a Successful Blog in 2022? Follow our step-by-step guide and discover the best free blogging sites to host your website.
In this article you'll learn:
7 easy steps to start a blog
Choose a topic
Write about what you know best.
If you are a good chef, start a cooking and food blog; if you feel passionate about video games, set up a gaming blog.
Simple as that.
Your audience will value your expertise in a certain subject. Don't go crazy trying to find the hottest topic out there. Find a blog niche that is right for you and stick to a plan.
Looking for some inspiration? Create your own 'weekly blogs to read' list and see what other bloggers are doing.
Keep an eye on your competitors
To start a successful blog, first you need to know what it takes to build one.
Check out what your competition is doing and try to mimic their techniques. Don't copy their content, just spot the following:
What keywords are they ranking for?
What kind of content is working best for them?
How often are they posting new articles?
How are they implementing media items?
Once you've answered these questions, you'll be in a better position to outrank your closest competitors.
Pick a name
The moment of truth.
Picking the right name for your blog is decisive: it has to be short enough to be catchy and long enough to describe what it is that you are doing.
A domain generator can save you hours of brainstorming.
NameBounce is an online tool that features a blog name generator. Write a keyword in the search bar and get an extensive list of available domains for your site.
Remember that you can't use spaces or punctuations in your domain. Instead, try to add dashes.
Find a blogging platform and design your blog
When it comes to choosing a blogging platform for your site, always go for the easiest option in order to be successful in starting a successful blog.
Platforms like WordPress, Weebly and Wix have a low learning curve, so they might be great choices for you to build a blog from scratch.
The perfect software for your blog should be:
Flexible and accessible to everyone
Highly customizable
Code-free
Start writing
A reader spends 37 seconds reading a blog post on average.
That's not much, so you better make those 37 seconds count.
When you start writing your first blog post, think about your buyer persona. In other words, know who you are writing to and adapt the content piece to your audience.
If in doubt, use a writing assistant like Grammarly or Hemingway. These tools will help you correct misspellings, improve your tone of voice and make your texts easier to skim through.
A blog post has no value if no one reads it. That's why you must be aware of the latest SEO practices and apply them to your site.
With a strong SEO strategy, your blog will be visible in Google search results and you'll get more traffic to your website.
Promote your blog
Spread the word.
When you've written an article, you've done half of the work; the other half is the promotion of it. To reach your target audience and get more views you need to go the extra mile.
The first step is to design your blog and make it SEO friendly. This is part of the pre-promotion stage of your site.
The second step is the actual promotion of the blog. Tell everyone about your new project and share it with your community. Follow these tactics:
Post it on social media
Build an email list
Use paid search advertising
Sell yourself in online forums
Look for guest bloggers to write on your site
Organize an event
Ask people to share your content
Make money
Believe it or not, you can earn some money with your blog site.
How? The wealthiest bloggers in the world make 80% of their income from online courses. Although this is an effective way to monetize your site, it requires more time and money than what you are willing to give as a first investment.
These are some alternatives to make money as a blogger:
Try affiliate marketing: post affiliate links on your site and earn passive income. Every time a user clicks on it, you'll get paid
Post ads in your blog: a tool like Google AdSense can help you to manage online advertising
Sell your products: if you own a business you can sell products in your blog. Make it easy for users to purchase items from your site.
Best free blogging platforms in 2022
Hashnode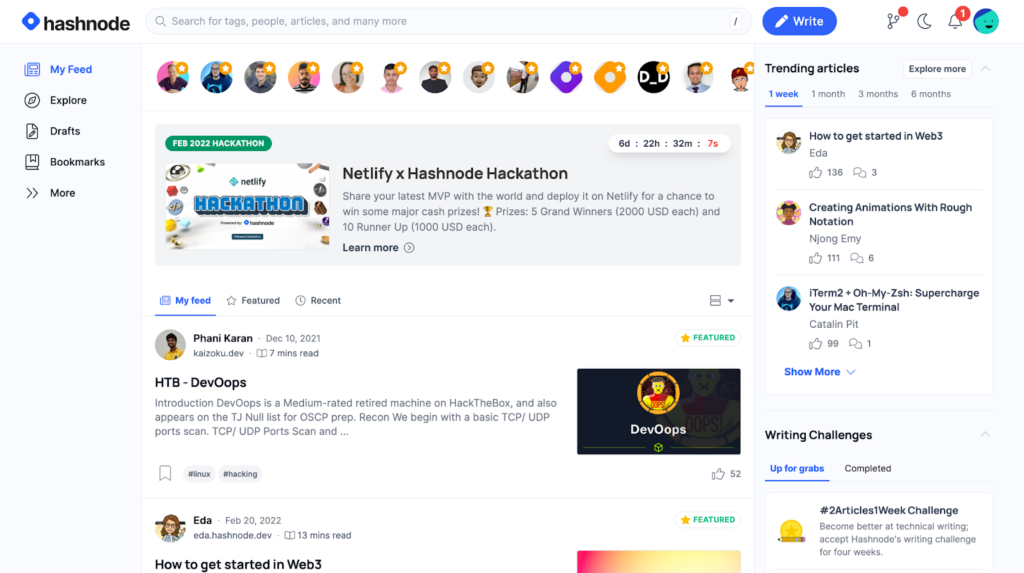 If you want to write about your latest projects as a developer, Hashnode is the perfect platform for you.This free blogging community gives you the chance to share your knowledge with a wide dev audience since day one. With Hashnode you can post content in your personal domain and get views straightaway.Do you want to migrate your content to GitHub? Once you publish an article, your text is automatically saved in your GitHub repo.Other features that you'll love about HashNode are its communities (on-site and Discord) and SEO customization. Connect with other developers to promote your content and optimize your blog for better results.Forget about sites like DEV and Medium. Hashnode is the future of developer blogging platforms.

Pro tip: use Hashnode Sponsors and monetize your blog posts.
WordPress
Did you know that 43% of all websites are powered by WordPress?
This content management system is a classic among the classics.
Since its launch in 2003, WordPress has helped millions of users to create websites such as eCommerce sites, portfolios and blogs.
The secret of WordPress' success is its simple and intuitive design: you can configure your new blog in around 15-30 minutes. However, you should still get a nice hosting to speed up WordPress and boost overall website performance.
Install the software and enjoy these features:
Customize your site with 9,243 free themes. Pick the colour scheme for your blog, change the font and add background images
Choose between 59,450 free plugins and enrich your blog posts with extra features. YoastSEO is a popular plugin to boost your SEO performance
Start with a Free WordPress plan and upgrade it to Personal, Premium, Business or eCommerce. The free version is enough to build a standard blog, but other plans include benefits like free hosting during the first year of the subscription
Pro tip: use a WordPress page builder to create pages without code.
Wix
The emergence of Wix in the blogging world was a breath of fresh air for content creators.
This platform has all you can expect from a website manager:
The setup for new users is straightforward
The free version has complete functionalities
The themes and plugins library has a decent number of options to choose from
Wix can't compete with WordPress advanced features, but it has arguably the best onboarding process in the market. Its visually appealing design and the introductory step by step guide will make your life easier.
Are you new to content management systems and software? Try Wix and personalize your blog in just a few minutes.
Pro tip: go to Wix official site and get inspired with some awesome Wix websites designs.
Weebly
Drag and drop tools make starting a blog easy.
We can't think of a better introduction to a website management system. Weebly's copywriters are as good as the platform they are promoting: over 30,000,000 users worldwide can give good proof of it.
Weebly is a platform designed for business blogs.
It offers marketing and online sales integration tools to start an eCommerce site straight away. This means that you won't need to install plugins to add your products and track your progress.
The same goes for SEO. Weebly optimizes your blog automatically and provides you with a very useful guide with tips and checklists to rank higher.
Pro tip: use Google My Business to manage your online presence as a company and create a Google My Business report to get insights and historical data.
Final thoughts
Starting a blog is a big challenge.
As a beginner, you'll face moments of lack of inspiration and low traffic. Keep in mind that these are just obstacles on your path to success.
Do you own a business and want to have more online visibility? Are you planning to make money with your blog as a side hustle?
Consider using the following tips:
Pick a blog niche that fits your needs and values
Monitor your competitors and collect ideas based on their work
Choose a memorable name for your site
Find a free blogging platform like WordPress, Wix and Weebly
Write relevant content for your audience
Promote your blog in online and offline channels
Monetize your content with strategies such as affiliate marketing or with Google AdSense
Now that you know all the keys to start a blog in 2022, it's time to create great content and drive users to your site.
About the author
Andrei Tiburсa is a content marketer who loves creating content that people find useful and that ranks well. 📈When Andrei is not creating content he likes learning more about the wild Web3 world, dabbling in investing and playing video games.
Andrei's role at Hashnode is to help more developers instantly start a developer blog on their own custom domain and connect with devs from the Hashnode community 🙌