How To Build An E-Commerce Site That Converts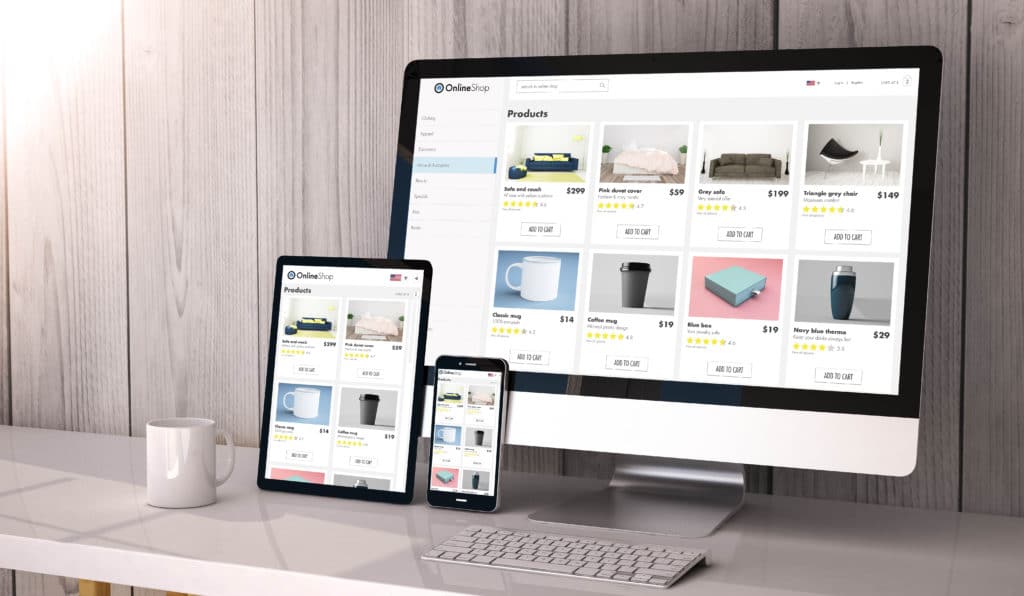 If you want to build an eCommerce site that converts, don't just rely on hiring standard website designers or using template themes. With today's tough competition in the eCommerce world, having a beautiful website design isn't enough to grab one's attention. Also, it won't help you reach your target audience. In this case, you have to think of other factors or elements that make an effective and successful eCommerce website for better conversions.
Fortunately, there are various ways to build an eCommerce website that converts. If you don't know where to get started, you can use a conversion rate calculator to determine your target first. Then, make sure to keep the following tips in mind when creating your eCommerce website:
Choose A Brand, Business Name, And Domain Name
One of the first things to consider when building an eCommerce site is to determine your brand, business name, and domain name. In this part, you can be innovative and creative.
Just think of your target customers and look for other brands that are similar to yours. Steer clear of things that are already trademarked or copyrighted by another business. Also, check if your preferred domain name is still available.
Pick The Right And Best Platform For Your ECommerce Website
Once you've finalized your brand, business name, and domain name, it's time to select the best possible platform suited for your eCommerce website. You must think of the range of functionality of your preferred platform.
Whether or not you're planning to create responsive pages, how your website is hosted is crucial. Also, ensure that the host is secure and offers various features that'll help you build an eCommerce website that'll have a competitive edge. It's also a good idea if the platform you're using is compatible with other plugins or apps that you may install in the future.
Always Prioritize Good User Experience
To create an eCommerce site that converts, a good user experience is one of the keys. Since your customers won't be able to experience or see your products and services in your store, you want to ensure that they won't experience any inconvenience when using your website. Besides, an eCommerce site is meant to be convenient and fast.
Fortunately, there are some ways to make your eCommerce site intuitive and responsive. If you don't know what to improve or change, below are the best eCommerce website design practices you may consider:
Create a clear navigation menu – This enables your customers to search your site quickly and find what they're searching for.
To prevent things from looking too crowded in your menus, organize your navigation bar by using a drop-down menu.
Include the best search feature – Your consumers don't like spending time looking through countless products, particularly if they know what they like. Your search feature must let your customers filter results based on the price, color, and size.
If your potential customers can't quickly find what they're searching for, they'll immediately leave your eCommerce site and look for another that offers a better search feature.
Use Quality Visuals – Whether you like it or not, most customers will only spend a few seconds browsing your eCommerce site. For this reason, you should immediately catch their attention by showing them how unique your site is.
The best solution for this is to use quality visuals, like images, to attract your customers' attention. Having videos on some of your web pages may also come in handy. To achieve success, integrate such elements in your product pages and other parts of your eCommerce website. Just be sure that you place them on pages where they're appropriate.
Offer A Variety Of Payment Methods
Another key element to consider for an eCommerce site that converts is the availability of different payment methods for your consumers.
At present, there are countless payment methods you can include in your eCommerce site, which may include bank transfers, debit or credit cards, digital wallets, and more. However, it doesn't mean that you should include every payment method available today. If you're confused with the options, make sure to know what your target audience prefers.
For instance, you can benefit from offering debit or credit card-style payments. But, if possible, try to provide at least three payment methods in your eCommerce site for better conversion rates. Having several options for payment methods may also be beneficial in case there's a sales surge.
Use Secure Sockets Layer (SSL)
When creating your eCommerce site, one of the things you shouldn't forget is to install an SSL certificate. This certificate places a green lock next to your site's address. It keeps your customers' personal information secure and private. Plus, it provides customers some peace of mind knowing that they're shopping on a reliable website.
Keep in mind that savvy customers don't usually provide private information to any eCommerce site. However, if your site has an SSL certificate, they can guarantee that any information shared when making a purchase is secured. This is because SSL certificates keep cybercriminals from stealing or accessing credit card information, as well as prevent possible cyber threats, like fraud.
Create A Blog
If you want to drive more traffic to your eCommerce site and increase its conversions, another thing you should consider is to make a blog. A blog is a good opportunity to post or share content that contains useful information.
Even if it's quite time-consuming to create and manage a blog on an eCommerce site, blog posts may encourage your consumers to come back or visit other product pages related to the blog posts. Aside from that, blogs can help you connect with your audience on a deeper level. Once your customers respond to your blog posts, you'll be able to understand them better and help you create more content that'll meet their wants or needs.
Blog posts can also help you establish buyer trust once they provide value to the readers, like offering advice on how to use products properly. However, make sure to be consistent with your blog posts.
If you're running out of topics to discuss, you can take advantage of analytics tools to know what blog posts your customers prefer often. You can also use other tools to determine the right keywords to use in all of your content to keep your eCommerce site's high conversion rates.
Offer Incentives
ECommerce site owners don't need to worry regarding the marketplace rules that limit what they could include on product pages. Instead of worrying, why not take advantage of such rules by offering great incentives to your buyers?
Whether they're promotional emails about ongoing sales or pop-up discounts at the homepage of your site, you must actively reach out to all of your buyers with various kinds of incentives, encouraging them to purchase.
To provide different incentives to your buyers, you can use data-driven tools to help you segment your frequent customers. For instance, you can send emails offering discounts to your first-time buyers or those who abandoned their shopping carts.
When offering incentives, consider tracking what coupon codes are frequently used. Doing so helps you determine what promotions encouraged more purchases. This will also give you ideas on what type of coupon codes to use in the future.
If you're planning to use a pop-up discount box to offer incentives, make sure to do it occasionally. The reason behind it is that pop-ups can be annoying to some customers, making them leave and look for another eCommerce site.
Show Reviews And Social Proof
If you want to build an eCommerce site that converts, your consumers should feel that your business is trustworthy. To achieve that, you need to show your potential customers' reviews or feedback.
Social proof or customer reviews are beneficial to any eCommerce website as it affects your customers' buying decision. When you display reviews, your target customers will more likely trust your products. Also, showing off reviews can give you a competitive edge in the market.
Use Email Marketing
A simple way for merchants to establish customer relationships is to take advantage of email marketing. As a business owner, you can send out several targeted messages to buyers that address their specific wants. Email marketing is a powerful tool to increase revenues and encourage sales.
If you want to get started, you'll have to collect the buyers' emails and ensure that they like to receive messages from your eCommerce site. There are some opportunities that can help you ask buyers whether or not they prefer to receive email notifications. These can be during their checkout process or create a pop-up window while they're shopping around your eCommerce site.
However, not all buyers agree to sign up for your email lists, but the group of customers that do could be your buyers who are eager and excited regarding your offerings.
When using email marketing for your eCommerce site, make sure to use the best email marketing tool available in the market. This will help you track the success of your emails, such as the number of times they're opened and which links were often clicked. Depending on your email marketing software, it's also a good idea to track the customers who unsubscribed from your list.
With this information, you'll be able to improve your email marketing efforts to avoid future cancellations.
Provide An Excellent Customer Support
When building an eCommerce site on your preferred platform, you should think about how you'll establish a customer base and retain all your customers. Thanks to sponsored ads and social media, marketing and eCommerce sites are now made easier. Having customer service is something that'll help you ensure that your customers will keep coming back to do more business with you.
With responsive and excellent customer support, you'll be able to provide a superb customer experience to your customers. This is especially important if your customers have concerns or questions regarding your products or services.
To have good customer support, there's a need to implement some elements, such as personalized product recommendations, Frequently Asked Questions (FAQs), chatbots, safe payment gateways, delivery, logistics solutions, and live chats.
Write Effective And Concise Product Descriptions
Product descriptions play a crucial role in your eCommerce site. Without them, you won't get purchases and miss out on more customers over time. So, when writing product descriptions, be sure to focus on your ideal buyer's interests, needs, or goals.
In this way, your customers will feel that you truly understand them and know what they need, making them feel more confident when doing business with you.
Other than that, the most critical factor to remember when writing product descriptions is to ensure they're concise. Take note that most consumers will skim anything longer.
If you have a lot of information you want to convey to your customers, you might want to hide some parts of it by using a 'Read more' link or button. You can also cut it down by incorporating infographics or easy-to-read bullet points.
Add Clear Call-To-Action (CTAs)
Having a CTA is important to convert traffic into sales. Often, CTAs may include 'Add to Cart' or 'Buy Now' buttons, which stand out on your site to grab your customers' attention and encourage them to continue the transaction. This is usually done by using unique design elements and contrasting colors.
Moreover, ensure that your CTA is aligned with your web page's intent. For instance, the CTA on product pages should be 'Buy Now' while your CTA for your content page must be 'Read More.'
Simplify Your Checkout Process
If you want to keep your customers, you should simplify your checkout process. This is because every additional step in your checkout process can increase the chances of your customers abandoning their current transactions. In fact, most consumers leave eCommerce sites if it has a complicated and long checkout process.
To avoid that, eliminate any unnecessary steps in your checkout procedure and get only what's essential from your buyers. For instance, there's no need to ask questions that include their favorite vacation spot or mother's maiden name. Instead, get their shipping address and billing information, which matter the most to process the transactions properly.
Bottom Line
Building an eCommerce website that converts or sells requires no magic or secret recipe. The only thing you should do is to keep the above tips in mind and make sure to implement them well. Also, be sure to never stop improving your eCommerce site. Doing so allows you to grow your business and target your sales.