eCommerce & Customer Retention: Why Do You Need to Care
While all sales are good, they are not created equal. Let's say the average price of your product is $50. In one scenario, the customer makes a purchase, you get your $50 and never hear about them ever again. To get another $50, you have to lure a new prospect into your store.
In the second scenario, the customer buys $50 dollars worth of products and then returns, a few weeks later, to buy $50 more. They might also recommend your business to a friend who will also spend $50 because they trust your customer's opinion so much.
So what's the deal? The difference between these two scenarios is summarized in two words – customer retention. It is a gift that keeps on giving with minimal investment, yet that is frequently neglected by the companies in every industry. Stick around if you'd like to learn why customer retention matters and what steps you can take today to win people's loyalties.
Why Does Customer Retention Matter?
It is cheaper
The allure of customer retention is a pure numbers game. Every action that your team undertakes costs time that they could have spent improving your business in other ways. Attracting new customers is always a bigger challenge – they haven't interacted with you beforehand, they don't know what to expect and, therefore, must be convinced that it is worth spending their dollar at your destination. Old and returning customers, on the other hand, already know what to expect; they don't need to be convinced about the value that you provide. In fact, per some estimates, acquiring new customers is 5-25 times more expensive than keeping an existing customer happy.
It promises a higher ROI
So, here's a question: let's say you're on a street with two competitors side-by-side. They offer similar products for a similar price. The difference being is that you've been to one and are satisfied with what they have to offer. Would you gamble spending your money in a store that you are unfamiliar with or you'd rather give to a trusted vendor? People highly value familiarity and comfort, so a business would have to really screw up to lose the loyalty of an existing customer.
Besides, word of mouth is a powerful asset: satisfied customer is more than happy to share their experience with their friends and acquaintances. Just like that, you don't need to ask them to do it! Every dollar spent on retaining your customer is a gift that keeps on giving.
Wide Options Lead to Cutthroat Competition.
If we are talking about physical retail, there might be unfortunate scenarios in which the business owner does not need to care about customer retention. If they are the only specialized store in 10 miles radius, it's not like customers have any other choice. We're not saying that it is something you should strive for as a business, but such a scenario wouldn't really fly in eCommerce.
Although there are some that stick with the company to the end no matter what, customers usually remain loyal as long as your service fully satisfies them. If a competitor were to suddenly offer a bigger bang in all dimensions, you'd be churning customers like there's no tomorrow.
Blockbuster was a tour de force in the video rental for decades and crumbled in less than due to the pressure applied by Redbox and Netflix. The latter two started providing service that was incredibly more convenient and Blockbuster quickly turned from the go-to place for each American family to a laughing stock.
In eCommerce, such shifts are even swifter as the customer does not even need to physically go somewhere else. All it takes is a single click and they are no longer yours.
When to Focus on Customer Retention
As important as it might be, customer retention is just one part of a puzzle, so it is necessary to pick the best time to focus on it. There are no clear-cut guidelines, but as a rule of thumb, it comes to a ratio between growth and stability.
If your business had just opened its doors, pooling all your resources into customer retention does not sound logical. If you have one customer, it makes more sense to concentrate on acquiring new prospects. Once your company moves past a large growth spike, chances are that the growth rate will slow down. Around that time, you should start thinking more about how to keep existing clients happy because you've probably reached the largest part of the audience that might have some interest in your offering. All cold call strategies will experience diminishing returns.
Think about it this way: if you are a watchmaker and you have already sold a watch to every single person in your town, they probably won't need a new watch for a while, so creating ads about selling them might not be the most cost-effective idea. They might, however, need maintenance and repairs on their purchases which is a type of customer retention strategy. Speaking of watches…
Importance of Customer Retention Differs by Industry
There are things that people buy once in a few years and there are things that people need on a daily, weekly basis. Understanding where your eCommerce business falls on this axis will help you understand the immediate importance of customer retention and the appropriate strategies you ought to establish.
If you're selling supplements and sports food, you really want your customers back because their initial purchase will run out sooner than later. Creating a satisfying and streamlined customer experience with some loyalty discount on top will be a key to converting them to recurring customers.
On the other hand, let's say you're selling furniture or expensive electronics that people either buy for life or upgrade in 5-10 years. Customer retention plays a reduced role here, but that doesn't mean that you should neglect it completely. People still need repairs and advice on products that they buy and let's not forget about referrals either. A positive impression made yesterday transforms into new clients tomorrow.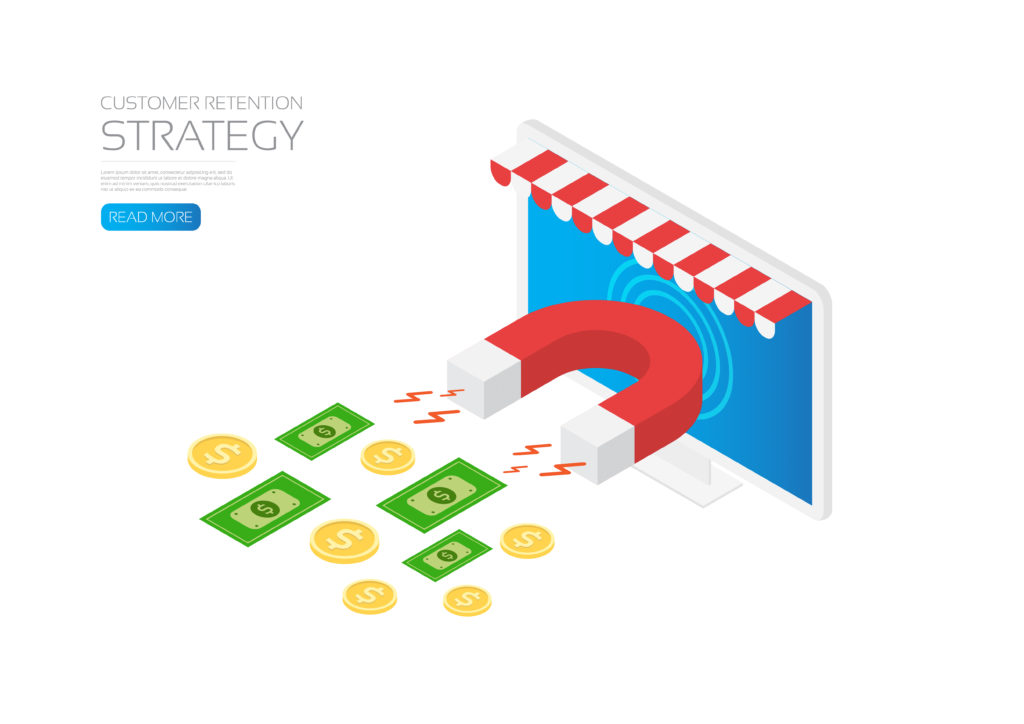 Tips on Improving Customer Retention
As with everything else, the applicability of these tips will vary fluctuate based on your needs, current strategies, and the business niche. Nonetheless, these general guidelines should nudge you in the right direction.
Improving Customer Support
Few things in life are as frustrating as having a question or a problem with a product, and customer support does nothing but give you a canned response from a FAQ section with a 10-minute wait. People tend to contact customer service often as a last resort to solve their issues, so a bad experience here will leave a horrible impression that can lead directly to churn. 
The baseline for a good customer support rep is that they should be swift, friendly, and knowledgeable. In other words, customer support should actually solve customers' issues whenever that is possible. The live chat option can facilitate both if you aren't already using it. It diffused the awkwardness of a phone call and allows both parties to ask for clarifications in a timely manner, something that supports via email cannot offer. You should still offer these options if you can, but live chat swiftly becomes a to-go option for many customers.
Depending on your niche, you can also offer customers some form of gratuity if they have encountered some unexpected issue with your product. That can be a small voucher for the next purchase, a discount, or a free sample in the next order. Take a note from food delivery apps: whenever the order is significantly delayed, they send a promo code for the client's next order. Not only does it make customers feel valued but since they cannot spend that promo code anywhere else, they'd be more inclined to use the service again.
Loyalty Programs
Loyalty programs can come in many shapes. The two most popular options are the points program and discount % based on the customer's total spending on your website.
So with the first option, you offer points for each purchase which can then be used either for a discount or you can outright allow customers to buy products with them. This option also has a side benefit of encouraging customers to purchase things that they would not have otherwise. You can create rotating deals where a specific product group nets you more points around a particular holiday like Christmas. If a customer was on a fence, they might be inclined to buy the product due to the perceived added value.
The second option is more straightforward: if a customer spends a total of $500, they get a permanent 5% discount. If they spend $1000, the discount is now 10%, so on and so forth. It's a simple but effective solution as it motivates customers to keep all their spending in one place.
The downside to these loyalty programs is that they seem too committal for first-time buyers. When you want to buy something in a hurry, setting up an account is the last thing you want to do. To work around this issue, you might offer an option to create an account after the initial purchase just to not make it feel as you're too pushy.
Keep Innovating and Improving Your Product
To illustrate this example, we'll turn to the case of Valve's Steam Marketplace, an indisputable leader of the digital game sales niche. How does Steam manage to stay ahead of the competition throughout all these years?
When it launched in 2003, the answer was simple: the competition was non-existent. In the years since many large competitors have launched their digital marketplaces yet they are unable to compete with Steam despite lucrative offerings of free products and other large sales. Today, however, Steam keeps others in the dust due to constant innovation. Originally "just a marketplace", 2021 Steam is a giant hub where people can stream games, read honest reviews directly from players, ask for help, earn money, and share their game libraries with friends who don't have to pay for these features. Meanwhile, competitors launch their offerings even without a proper shopping cart in place.
What constitutes an innovation will, again, depend on what you do and the current state of your business. Sometimes, you might need to improve the product. Another time, it can come down to the infrastructure which surrounds it (i.e customer service, website browsing experience, etc.). And, in some circumstances, it can be as trivial as keeping your digital assets fresh, updated, and shiny. Looks still matter, and there is a reason why even solidified giants like Google insist on shaking up their designs every few years.
As competition grows, so do people's expectations on what constitutes a good offering. Resting on your laurels rarely works out.
Conclusion
Customers are the lifeblood of any business, eCommerce not being an exception. Keeping them happy means that they turn into self-imposed marketing assets: they will keep on returning to you and they will keep on bringing their friends along for the ride. The time that your marketing team would have spent making cold calls could be then re-invested into keeping the existing customers happy, creating a positive feedback loop that just keeps on giving. Obviously, there are times and circumstances where going all-in on customer retention does not make that much sense, but virtually any eCommerce business can benefit from implementing the outlined practices.
About the author
Bohdan Kryvenko is a Copywriter at Pics.io, a digital asset management solution designed to solve all your pains related to collaboration, organization, and management of digital assets. Used across all sectors of eCommerce, DAM streamlines assets workflow, allowing companies to dedicate more time to creative problems. To learn more about Bohdan or Pics.io, you can shoot him an email at bohdan@pics.io