6 most common digital marketing myths debunked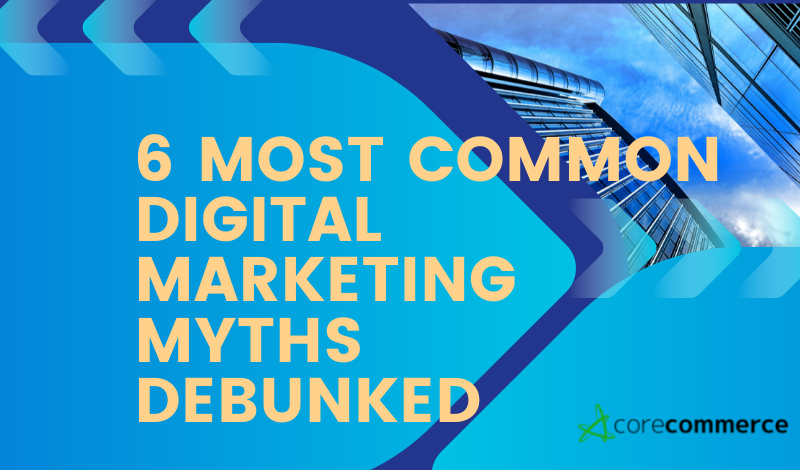 Have you ever witnessed people making lame statements about digital marketing? If you have been working in the field for a long now, you must have heard such statements from different people from your surroundings.
Most of the time, people may not have enough knowledge but still talking about this field. That is the reason why you are having too many myths and confusions regarding digital marketing.
Due to such conditions, you may be looking to avoid this marketing dimension to promote your business. If yes, you are absolutely making a big mistake regarding the success of your business.
It is because you will not be able to get exposure to a huge audience but keep rotating around your regional community. In such a condition, the chances to get quick success will decrease.
To keep your capital safe and clear the most common confusion about digital marketing, we have written this blog. By the end, you will be able to clear such doubts and pay a lot of focus in this dimension.
Let's get started and make more people aware of your business.
SEO is dead.
Many people say that Search Engine Optimization is dead now and you will not be able to get outcomes from this dimension of digital marketing. Keep in mind that there is no such thing and this skill is far behind the dead end.
The reason behind this statement is the inappropriate outcomes or no results from their efforts. There might be many reasons behind the unsuccessfulness of those people or marketing experts.
In reality, SEO is the major part of digital marketing and has become the most important one too. It is because you can't promote your business on the internet without adopting proper optimization techniques.
According to internet live stats, there are more than 1 billion websites are active on the internet. Therefore, it has become hard to rank in the higher positions due to such huge competition.
That is the reason why people think that SEO is dead and they don't have to consider it in their digital marketing plan. You should keep it in the first position because you will not be able to cover other dimensions of this field without having a strong grip over it.
Digital marketing is only for bigger assets.
Another common myth that you will find in your company of marketing people is that digital marketing is only for big companies. It happens a lot when you will be pushing towards physical marketing instead of digital marketing.
There is no such thing or guidelines by the digital marketing experts from which you can get surety about this statement. Whether you are working on a small level digital business or the large one, you will find digital marketing a turning point for you.
For instance, you will be able to target only a few thousand people through physical marketing. Also, the chances to encourage them to be connected with you will be lower than your expectations.
On the other hand, you will be able to engage millions of people by promoting your business in digital marketing. The process will be simple if you have hired someone proficient for this task.
In turn, you will be able to promote your small business on the internet. The chances to grow your business and make it a bigger hub will be more than ever.
Designing a website is the best way to market a business.
Many people who are just at the beginning stage of digital marketing will suggest you design a website for your business only. You will keep listening that it is the only way to promote your business and generate a handsome profit.
Keep in mind that this is not the only channel to deal with digital marketing. There are more than 20 different ways through which you can promote your business.
Whether you can work on paid advertisement platforms or pick the network marketing techniques to get the task done. It is the biggest myth you have to hear by the people around you or talking on different social media channels.
Email Marketing is not a prominent part of digital marketing.
One of the oldest ways to promote a business in digital marketing is via sending emails to your target audience. In this time of other channels, people think that email marketing is not as strong as it was in the past.
They claim that email marketing will not generate a higher ROI because people won't check their mail. Also, they will not become a customer just by reading the emails you have sent to them.
But the statistical data shared by a well-known research organization shows the opposite face of the picture. According to a rough estimation, it has been seen that you will get 40-45 times the ROI rate by email marketing.
In simple words, you will get $44 in return for every $1 you are going to invest in this dimension. The question comes to why people are saying this statement when they have much higher ROI stats.
There are multiple reasons one of which is the duplication of others. When you keep sending the same message typed in your email or by copying other people, you will not be able to get better outcomes.
It happens a lot when you even don't have any idea about this dimension of your content. So, you must use a plagiarism checker that will compare your content and give you a report about the uniqueness of your content.
You should make sure that you are not copying other people or authors for promoting your business. If you have found some duplicated lines, you should pick an article rewriter to make them unique in a few seconds. to If you have found some duplicated lines, you should pick a paraphrasing tool to make them unique in a few seconds.
In this way, you can expect higher ROI from your investment and this oldest digital marketing technique.
To target, only one social channel is enough.
We all know that we are living in an era where social media has become a prominent part of our lives. Therefore, it has become a strong channel to promote any product or business to get the desired outcomes.
There are more than 10 social media platforms that you can use in this regard. Many people will suggest you focus on only a single platform to get your task done.
No doubt, being focused will increase the chances of your success in digital marketing. But it is not a good decision to work on only a single social media channel.
First of all, you should do proper research to have an idea about the intentions of the people from different social media platforms. After this, you should choose those social networking sites that have more relation with your field.
In this way, you will be able to promote your business over different social media platforms and get better outcomes.
Digital marketing can't engage customers from mobile devices.
In this world full of internet devices, it has become common to use a mobile phone to search for various products or tools. Due to this, many people also search for their desired services from the same handy device.
According to some people, they will not be able to push people through digital marketing to pick their phones and connect with them. It is completely wrong because there is a huge chance that the reader will follow your guidelines and subscribe to your services.
So, you should optimize your website or an e-commerce store for both desktop and mobile devices. In this way, you will be able to convert your readers into potential customers by giving them a comfort zone on their mobile phones.
Final thoughts
In the above section, we have only enlisted the most common digital marketing myths. You may find many other wrong statements regarding this field in your daily life.
The only thing you have to do is to start researching about it to get an idea about the authentication of the process. In this way, you will be able to estimate whether the statement is true or not and you have to work on that dimension or not.