4 E-Commerce Basics For Home Service Companies
The business industry is said to be constantly changing. With digitization, customers want to meet their needs promptly without all the fuss and hassle. This change in customer behavior led to the development of electronic commerce (E-commerce.) With e-commerce, patrons can shop for all the products they need, including seeking services from the comforts of their homes. All they need is a browser and an internet connection.
Are you a home service company that wants to venture into e-commerce soon to make more sales? Lucky you for this feature will help you achieve your goal by giving you the basics of e-commerce to start you off; read on to learn more.
To start an e-commerce business, you need to:
Study Your Competitors
As a business, it's highly unlikely that you're the only service provider in your niche. Although you offer the same services, each of you handles your operations differently. To stand out from the rest and be successful in your e-commerce venture, you need to differentiate yourself from others. Therefore, before launching your business, study your competitors. Identify areas that they aren't paying attention to that you can use to your advantage. Let's say you want to use your business to advertise homes for sale in Melbourne, you'll want to survey the other platforms in Australia too.
With e-commerce, you can decide to offer free deliveries, discounts for every first two purchases, or even offer a virtual estimate. What is a virtual estimate? It's where you offer customized quotes instead of general ones. You can ask potential clients to fill out a questionnaire on what they require from you, which will help you price the services they need.
By offering unique services, you gain more customers because they believe that you provide them with value lacking from your competition.
Identify An E-commerce Platform To Use
Besides having a website, you require a platform through which you'll showcase and sell your services. Many vendors offer these platforms; some legitimate and others not. Thus, you need to be wary as you find a suitable vendor. How'll you do this?
Make the web your friend and search for the names of the most commonly used e-commerce vendors in the market. With this list, look at the reputation and reviews of each. What do other businesses have to say about the vendor? Do they meet the end of their bargain in agreements? You want to settle for an e-commerce platform with the least negative reviews and one with no bad publicity.
In addition to checking the reputation and reviews, vet their services. Can they help meet your needs in your niche? If possible, consider choosing a platform focused on your niche, in this case: home solutions. They should also be able to serve your business type efficiently to avoid costly errors.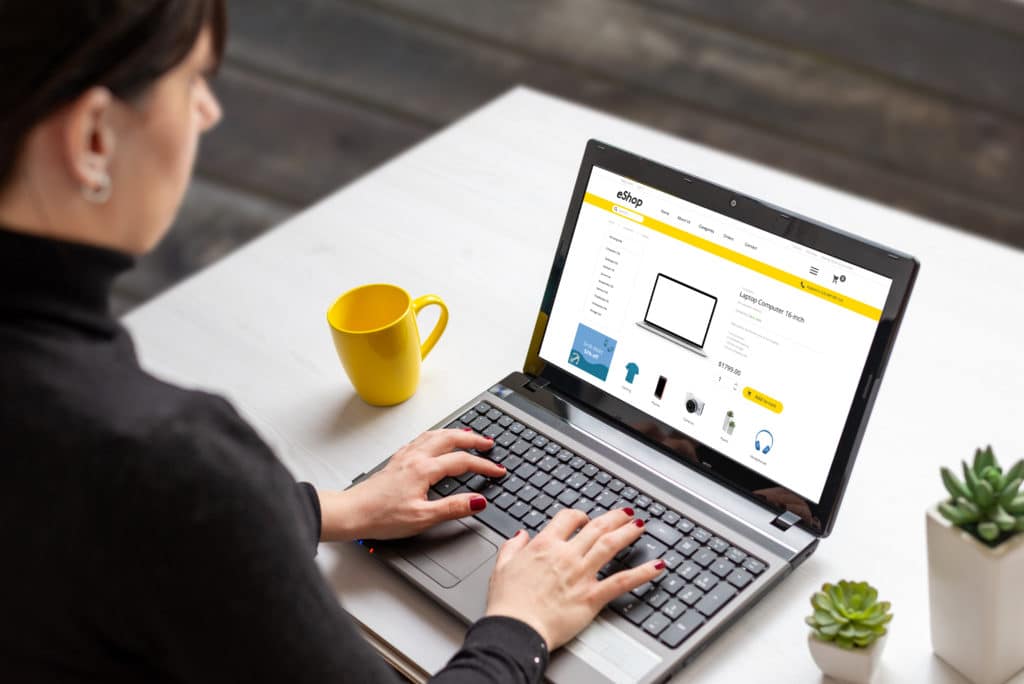 Develop A Website
To run an e-commerce store from your home, you require a site where clients can visit and see your products and services. A website will serve this purpose. Creating a website isn't an easy task, but it's also not challenging with proper guidance. The aim is to ensure it has a user-friendly interface. Your potential customers shouldn't have a hard time navigating your website.
As you develop your website, ensure it has a menu option with shortcuts to the various pieces of information on your website. Your guests shouldn't go from page to page; it'll waste their time and frustrate them, causing them to leave your site before making any purchase. Include an online payment system that your clients will use to pay you for your services, especially if it's a consultation. Be sure to adopt as many payment tools as possible to accommodate everyone.
One aspect that you must include on your website is your contact details. It'll help potential clients reach you to ask about services and even book appointments. Your webpage's contacts section should include your telephone number, email address, social media handles, and the physical address of your business.
Last but not least, ensure there's a terms and conditions section. It'll dictate how you carry out your business, your obligations and that of the clients, the limitations of your services, and the like. Such information is crucial, especially if a legal matter arises.
Market Your Business
You might have prepared everything and have your e-commerce operational. Still, it's not enough if no one knows about the existence of your e-commerce. Marketing an e-commerce is an aspect many established businesses often forget. They assume that since they already have the clientele for their business, it's not as essential. However, it is. How do you go about marketing your e-commerce?
The aim is to drive traffic to your new platform. Hence, create a lot of buzz around it; social media should come in handy at this point. Create ads, make videos, and post them on your social media pages, such as Facebook. Facebook is one of the platforms with close to a billion users; your brand will get more visibility, increasing the chances of driving traffic to your site.
Nonetheless, don't approach marketing blindly. Let your target audience be your guiding principle. Create adverts and content that resonates with them; they'll connect to your brand and be compelled to seek your services.
Conclusion
The feature above has shown that starting an e-commerce for your home service company isn't challenging. The process is made easier with the right guidance. Thus, consider implementing the tips discussed herein to ensure you don't miss out on any important aspect as you start your e-commerce.