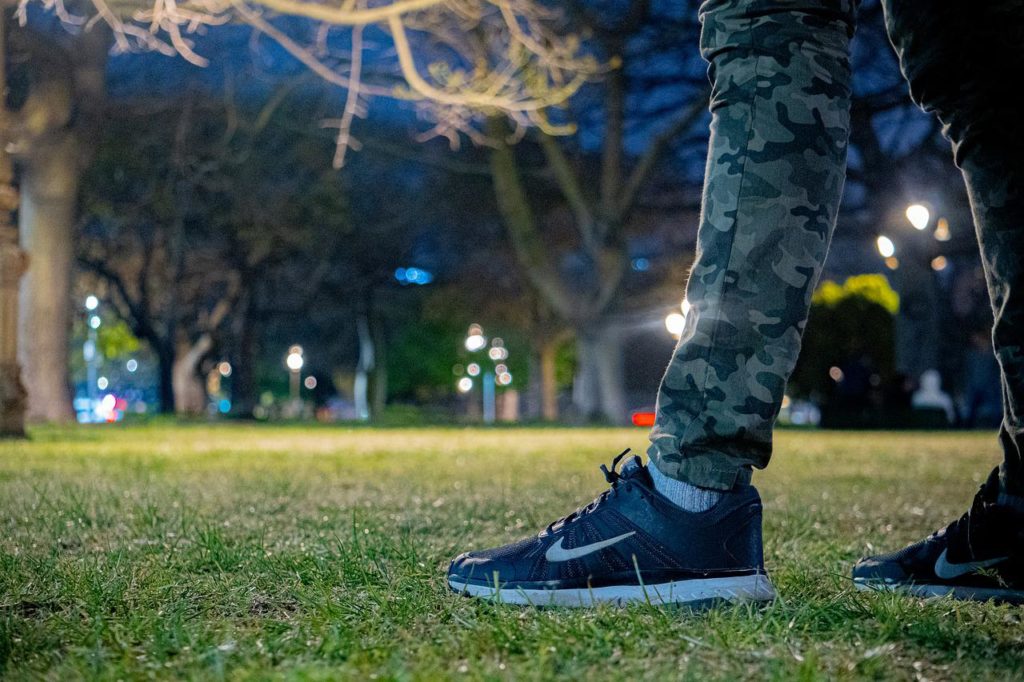 Camo pants may be a fashion conundrum for some: An eye-catching pattern that can also be used as a neutral? Check. Originally intended to hide its user, but constructed to stick out in an audience? Yep! But one thing is certain: camo has repeatedly been shown to be both fashionable and versatile. Camouflage pants, in particular, are a must-have wardrobe item for 2022. So, what are some stylish outfits to wear with camo pants?
That obviously depends on a few factors. First and foremost, evaluate the silhouette. Camouflage pants for women are available in a number of styles and sizes, such as cargo, slim, and even baggy. Secondly, what else will you be wearing with those camo pants? Maybe more significantly, where do you intend to wear them? We'll go into these concerns in more detail later, but first, let's take a peek at how celebrities are rocking covetable camo styles.
How Celebrities Wear Camouflage Pants
Stars are usually spotted in camo trousers on the sidewalk or on their way to a night out. Rihanna, a long standing fan of camo, has been photographed wearing it with more feminine, fitting tank tops.Meanwhile, off-duty supermodel Bella Hadid has been seen wearing baggier bomber jackets and shoes with her wide camo leggings. Taylor Swift as well as Cardi B, have all embraced camouflage pants while showing their midriffs, capitalising on another significant 2022 trend.
While these ladies are among the most fashionable on the globe, you don't have to be Instagram popular to pull off the style. So, what should you bear in mind while pairing fashionable clothes with camo pants? To begin, a high-low mixture is essential.
How to Wear Camouflage Pants
In 2022, wear your women's camo pants with strappy sandals or pointed ankle boots, as well as midriff-baring shirts, short jackets, or baggy blazers. Keep a close eye on symmetry regardless of your style. Match your silhouette and integrate masculine and feminine features for optimum impact. To transition between day and night, wear camo cargo pants with a figure-hugging trimmed blouse and suede shoes, then switch the shoes for anything taller and cover with a fitted leather jacket. The style is slightly edgy, slightly glam, and completely current.
What Blouse Match Camo Pants?
Right now, several of the popular camo pant designs are baggier, or at least significantly roomier—think classic cargo pants. A fitted shirt with a sweetheart neckline could be ideal for striking a balance between masculine and feminine. A basic black turtleneck or tank will not go out of style. Sweatshirts or jackets with more room are significant elements of stylish ensembles with women's camo pants. They actually look good when especially coupled with footwear that has some height.
Is it necessary to match your camo pants?
Camo does not have to match, but it is crucial to pair your items carefully. If you're thinking of matching your camo pants to a camo jacket, evaluate how the items will appear both independently and combined.
If you're wearing multiple camo outfits, it's usually best to match one in a milder, more modest design with another in a louder style. (Remember that camo is available in a number of designs, such as brushwork, jigsaw, forest, and tiger stripe.) You could also use different tones of green, brown, greyish, or tan to highlight the varied designs. There's also vibrantly colored camo for those who love the colour. If your camo trousers are the star of the event, solid-colored top-or-sweater combos like that are a (chic) safe pick.
How to Wear camouflage pants to a Dressier Moment
Recall Madonna's camouflage gown from the 2017 Met Gala? And, while the style was far from standard for formal dress, it sure had folks talking. Possibilities are when it comes to camouflage, you'll be wearing pants rather than a gorgeous dress.
You have alternatives for a night out. Consider a satin or silk-like fabric, or just combine your camouflage pants with a jacket and a stiletto shoe. When stepping out, camouflage pants with colourful jewellery and striking jewellery up the style quotient on fashionable ensembles. Irrespective of the colour, texture, or size of the design on your pants, it will most certainly be a prominent focal point.
How do you wear camouflage sweatpants?
From slimmer-cut joggers to loose sweatpants, there's a "comfy" camo look for everyone. Most similar guidelines apply to sweatpants in terms of style. Feel free to wear your camouflage pants with shoes and a tee for a casual beer run or grocery run.
It is entirely up to you whether you want to maintain a more precise silhouette as well as moderate the entire appearance. Slimmer cuts and even matching shirts can add a touch of polish to your stylish ensembles with camouflage trousers.Leather as well as denim blazers, dad shoes, and clunky slides are also good choices.
Additional 2022 Camouflage Fashion Ideas
1. Pink and camouflage pants for women
Pink has emerged as the go-to colour to match with all those tones of olive, brown, and tan, possibly because it is regarded as a "girly" colour and hence a suitable foil for camouflage print.
2. Camouflage Hats
If camouflage isn't currently your go-to, or whether you're just getting into the style, a camo-print headwear is one Y2K-era-approved trend to adopt that will match to almost any outfit.
3. Camouflage Sneakers
Add a pop of colour with a trendy camo-print shoe like the new models by Reebok, Adidas, as well as Nike. These sneakers, which are more eye-catching than camouflage headgear, walk the same path amongst ease and flair.
To summarise, regardless of whether you want your camouflage cut baggy or narrow, printed in subtle or vivid colours, or made of sturdy pieces of cotton or silky silks, there is now a pant for everyone. Take styling ideas from celebrities, discover a proportional silhouette, or simply follow your intuition. Whatever the case, your camouflage pants will be in style and your look will pop out in the crowd for good.